Koel-Products I-Land Banner
KOEL - Products I-Land Section 1 Header Body Content
Kirloskar iLAND
With a perfect blend of biotechnology and intelligent engineering, Kirloskar iLAND recycles your organic waste into a nutrient rich soil supplement within 24 hours. It is an Innovative Organic Waste Disposal Solution that reduces the volume of organic waste by 80-90%.
Why Kirloskar iLAND?
It is fully automated.
It is noiseless.
It uses less energy as low as Rs.1 per person.
It is odourless.
It is maintenance free.
KOEL - Products I-Land Section 2 Header Body Content
How Kirloskar iLAND Works
Add Waste:
Open the door and add any Organic Waste in your fully automatic iLAND. Open it, Fill it, Forget it.
Process Begins:
Sensor senses the moisture in waste and iLAND goes into Power mode. The PLC based controller in iLAND turns on the geared motor for mixing, heaters for heating and blower for ventilation, thus creating perfect conditions for composting.
Volume is Reduced:
Mixing Blades create a homogeneous mixture and blower maintains fresh flow of air, necessary for aerobic digestion. Heaters maintain temperature between 50°C to 60°C for thermophilic bacteria to thrive, which causes slow evaporation & volume reduction of up to 70%.
Decomposition:
Organic waste is decomposed into fine compost by iLAND's proprietary consortium of bacteria with a total volume reduction of up to 90%.
Recycling is Completed:
Recycling of organic waste into compost is completed & iLAND goes into power saving mode. Collect and store the compost for usage & start making a difference.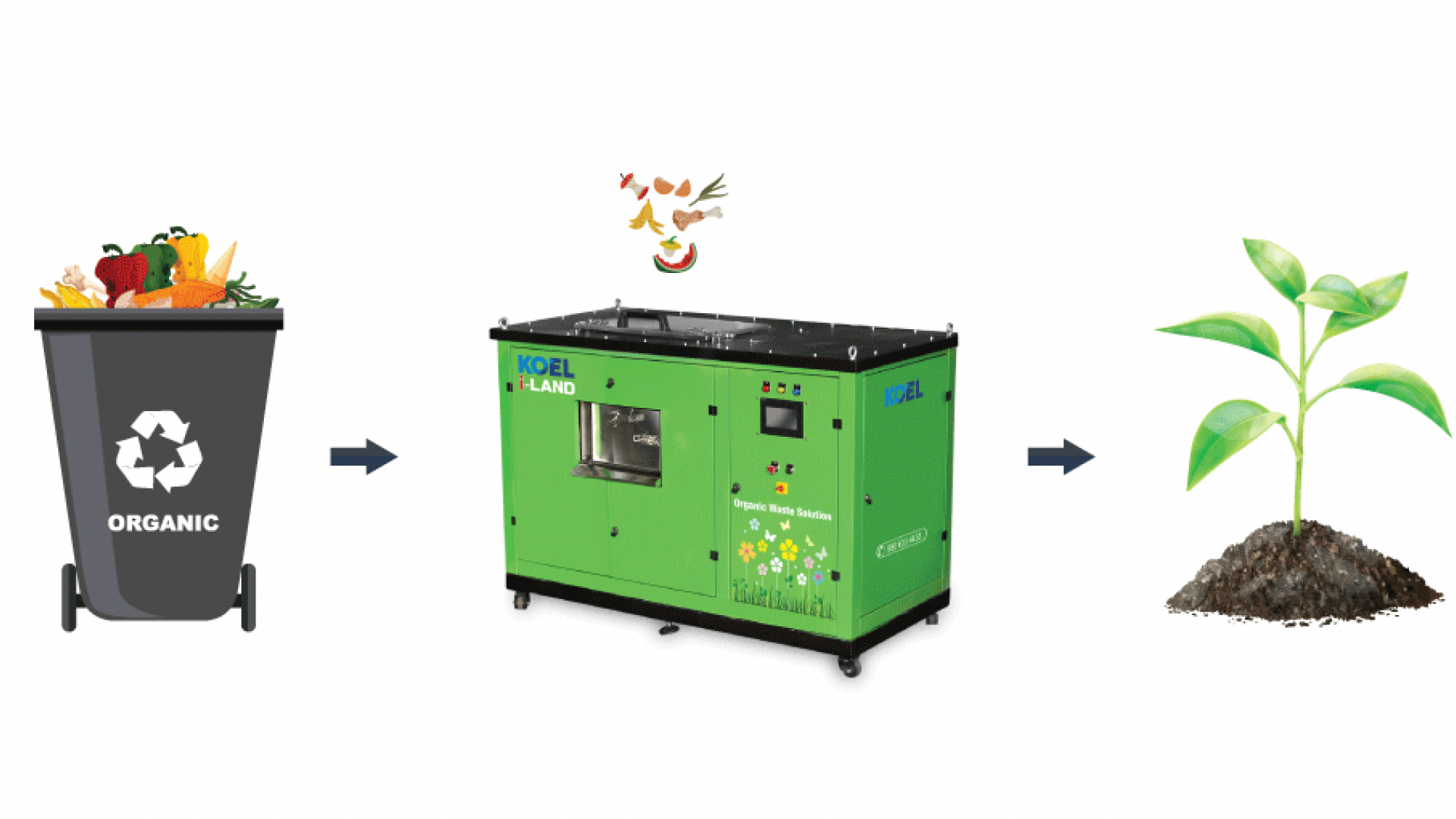 KOEL - Products I-Land Section 3 Toggle Accordion Content
With the ever-increasing population and urbanization in India, waste management has become a major challenge, especially in urban cities. Of the 62 million tonnes of waste generated every year in India, 40-50% of it is organic in nature and only a meagre 22% is processed while the remaining is deposited at dump yards. It is estimated that by 2047, India will need 1,400 square kilometres of landfill space (or the combined area of Chennai and Hyderabad. With the help of Kirloskar iLand, especially the kitchen leftovers and garden residues from big residential complexes can be reduced and recycled into nutrient-rich soil supplement. Kirloskar iLand is available from 25kgs per day upto 2.5 tonnes per day.
Most of the waste produced from food processing industries is either untreated, underutilized or disposed of via burning, dumping or unplanned landfilling. This untreated organic waste causes a variety of environmental issues that lead to an increase in greenhouse gases. However, all the organic waste is high in proteins, sugars, fibres, and minerals. This waste is useful and can be used as raw material for other products. Kirloskar iLand can treat their organic waste in an eco-friendly manner and help save the crisis of global warming caused due to greenhouse gases generating from degrading food waste in landfills. Kirloskar iLand helps industries cut down on their waste disposal costs and become environmentally more conscious.
The hotel industry is one of the biggest energy consumer and waste producer. 931 million tonnes of food or 17% of total food available in India is wasted. The weight estimated is to equal that of 23 million fully loaded 40-tonne trucks, enough to circle the Earth 7 times. This waste degrades the land, pollutes the environment and generates greenhouse gases from rotting food. Kirloskar iLand with its smart technology manages the organic waste daily and converts it into nutrient rich soil additive which can be utilized to grow plants. This eco-friendly approach cuts down on the waste management costs, thus having a positive impact on the environment.
IT Companies & Institutions
Of the total food produced, one-third of it, about 1.3 billion tonnes are wasted. Throughout the day, large corporate offices, IT Companies, and various institutes host and feed thousands of people regularly, resulting in massive amounts of organic waste generation. It is vital that they ensure responsible waste management, rather than dumping the waste without treatment. Kirloskar iLand helps you reduce carbon footprint and achieve sustainability by reducing organic waste from cafeterias. Its intelligent technology makes the process odourless and noiseless, so it doesn't impact the surroundings.
Retail & Commercial Spaces
Many retail & commercial spaces are packed with various types of food courts or cafeterias. With thousands of visitors and customers visiting, the retail & commercial spaces face the issue of waste management. A huge amount of money can be saved that is spent on the transportation of the waste. The installation of Kirloskar iLand at retail and commercial spaces can help reduce the organic waste and the process being completely automatic, noiseless, and odourless does not disturb the daily operation in the building, instead, it helps become the building environmentally more sustainable.
Of all the generated waste 15-20% is organic in nature, most of it comes from the hospital kitchens or cafeterias. Management of the amount of waste becomes very critical, if not treated properly, it can become a potential source for spreading infections. The generated organic waste has the potential to damage the environment by raising greenhouse gases, contaminating air and water sources, degrading land by increasing dumping and landfills, while increasing the expenditure of the overall waste management system. By being noiseless and odourless, it is a patient-friendly machine causing zero disturbance to its surroundings. Kirloskar iLAND offers extra benefits of reduction of greenhouse gas emissions, shrinks the hospital's carbon footprint, and helps save massive amounts of expenditure on its waste management system.
What type of organic waste CAN go in Kirloskar iLAND?
Kirloskar iLAND can easily process: - - Fruits & vegetables - Poultry & Fish - Egg & crab shells - Bakery food - Garden waste - Meal leftovers
What CAN'T go in Kirloskar iLAND?
You should not put non-biodegradable materials such as - Plastic - Rubber - Glass/Metal - Batteries - Medicines and chemicals - Large Bones
How long does it take for Kirloskar iLAND to turn waste into nutrient-rich soil additives?
Kirloskar iLAND is an intelligent organic waste composting machine, which converts any organic waste into compost within 24 hours. It is an at source, in-vessel system, wherein the natural and biological process is achieved using a consortium of thermophilic bacteria which converts the organic waste into compost within 24 hours
Does iLAND release a foul smell?
As the composting is completely natural and biological there is no foul odour emitted. Kirloskar iLAND is odourless if installation is done as recommended. The exhaust of the Kirloskar iLAND is connected to the main drainage line.
Is Kirloskar iLAND noisy?
The blades are just for homogeneously mixing the waste and there is no grinding or crushing. Therefore, the machine is noiseless
Can other single-use items labelled as' 'compostable'' be put in Kirloskar iLAND?
We do not recommend putting such materials into Kirloskar iLAND as they may require more time to completely break down and compost. We recommend that you check more information regarding this with our expert iLAND service engineer.
Does Kirloskar iLAND need an additive to support decomposition?
Kirloskar iLAND comes with the Kirloskar starter culture and it is always present in the machine below shaft level. The machine does not require any additives or micro-organisms repetitively. The starter culture is used for the entire life of the machine. This culture has bacteria that are thermophiles and get activated at thermophilic temperature and keep on reproducing themselves. So, there is no need to add the culture ever again in the machine.
What are the prerequisites for installing a Kirloskar iLAND?
Below are the prerequisites for installing Kirloskar iLAND: - Stable and flat floor - Rain protection shed - Rated 3 phase power supply - Earthing Connection - Nearest drainage connection to connect exhaust air pipe
How much electricity does Kirloskar iLAND consume?
The operating expenses of an iLAND are less than 1 Rupee per person, per day.
Can we add organic waste to Kirloskar iLAND while it is already processing the organic waste?
No, you should not add organic waste to Kirloskar iLAND while it is already processing. We recommend you load the machine once a day as per capacity.
How often does Kirloskar iLAND need to be emptied?
One should not empty the entire tank. It is necessary to maintain the compost till shaft level for effective composting in future. The compost removal door is designed in such a way that only top half of the compost is removed automatically.
How often does Kirloskar iLAND need to be serviced for smooth functioning?
Maintenance for Kirloskar iLAND is negligible. We recommend you clean the filter box daily for better maintenance.
Should Kirloskar iLAND be plugged into electricity all the time?
KIRLOSKAR iLAND is a fully automatic and intelligent machine which is controlled by a PLC and software program installed in it. The machine does not have an ON/OFF switch. KIRLOSKAR iLAND goes into power mode when waste is added and goes into Power saving mode once the process is complete.
How do I know if my Kirloskar iLAND is malfunctioning?
There are alarms which are displayed on the coloured touchscreen HMI in case of any malfunctioning.