Koel-All Products Power Gen PETROL 3 KW GENSET Image Carousal
Petrol
PETROL 3 KW GENSET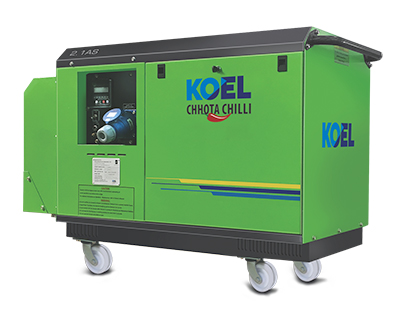 Koel-All Products Power Gen PETROL 3 KW GENSET Toggle Accordion
---
Power of Trust: India's #1 Genset brand
KOEL Chhota Chilli Portable Petrol Gensets come from the house of Kirloskar, having more than seven decades of experience. KOEL Green and KOEL Chhota Chilli have over 1 million Gensets in service across the globe. When it comes to Power, no one knows Gensets better than KOEL. With the highest rated power in the segment, user friendly KCC Petrol Gensets with superior durability & reliability ensures smooth and clean power to several connected devices.
Power on Wheels
KCC rolls on wheels and is equipped with a wide length handle. Mobile power backup can be convenient both for business or pleasure. From construction sites to wedding celebrations. This feature is of great help for small establishments and mobile workshops too.
Ergonomically designed handle
Specially designed wheels
Easy manoeuvrability
Enjoy the benefits of mobility and portability!
Power Of choice: Available in 2.1, 3.0 & 4.0 kw
Requirement of power backup varies from simple lighting to air conditioning; from computer systems to refrigeration; for small offices, clinics, restaurants to bunglows.
2.1 KW, 3.0 KW and 4.0 KW petrol sets gives you freedom to choose what suits you best.
Highest rated power output with better fuel efficiency provides more KW per liter of fuel Vis a Vis competition.
Inbuilt AVR ensures clean power to the loads and protects the devices from sudden current spikes.
Easy to start with choke ensures the start at first crank
Power Of Assurance
Power disruptions can affect your business as well as comfort of your loved ones. Gensets are like insurance against power cuts. KCC reaches you with the widest network of authorized dealers & skilled service engineers spread across India. Customers just need to dial our toll free number & service will be available at the door step
5000 service engineers
12 months onsite extended warranty on Industry Buying
Over 450 service outlets
24 x 7 quick connect care centre
---
| | |
| --- | --- |
| SKU | EL.PO.PO.1610699 |
| Rated/Max Power Output(VA) | 2100/2400 VA |
| Installation/commissioning | Labour Free on-site |
| Compliance | Latest Government Emission Norms CPCB II |
| Start Type | Easy Key Start |
| Service | Labour free onsite service under warranty period (420+ service touch points and 6000+ KOEL trained service professionals on field) |
| Types of Product | Portable Genset |
| Rated Current(A) | 8.34 A |
| Fuel Consumption (At 50% Load) | 0.84 ltrs/hr |
| Fuel Consumption (At 75% Load) | 1.09 ltrs/hr |
| Fuel Consumption (At 100% Load) | 1.29 ltrs/hr |
| Engine Model No. | CCP196 |
| Engine Type | 4 Stroke OHV |
| Bore x Stroke (mm) | 68x54 mm |
| Lube Oil Capacity (ml) | 650 ml |
| Fuel Type | Petrol |
| Dry Weight (Kg) | 110 Kg |
| Dimessions (mm) | 950X510X650 mm |
| Frequency | 50 Hz |
| Fuel Tank Capacity (Ltrs) | 6.5 |
| Rated Voltage | 230 V |
| Model No. | KCC-p-2.1 AS |
| Sound Level | <B6 dba |
---
Rated/Max Power Output (VA): 2100/2400 VA
Installation & Commissioning: Labour Free on-site
Compliance: Latest Government Emission Norms CPCB II
Start Type: Easy Key Start
Service: Labour free onsite service under warranty period (420+ service touch points and 6000+ KOEL trained service professionals on field)
ComKirloskarCustomFormsWeb
KOEL - Similar Product PETROL 3 KW GENSET Slider