Koel-All Products Farm Mechanization MEGA T 12 LV Image Carousal
Power Tillers
MEGA T 12 LV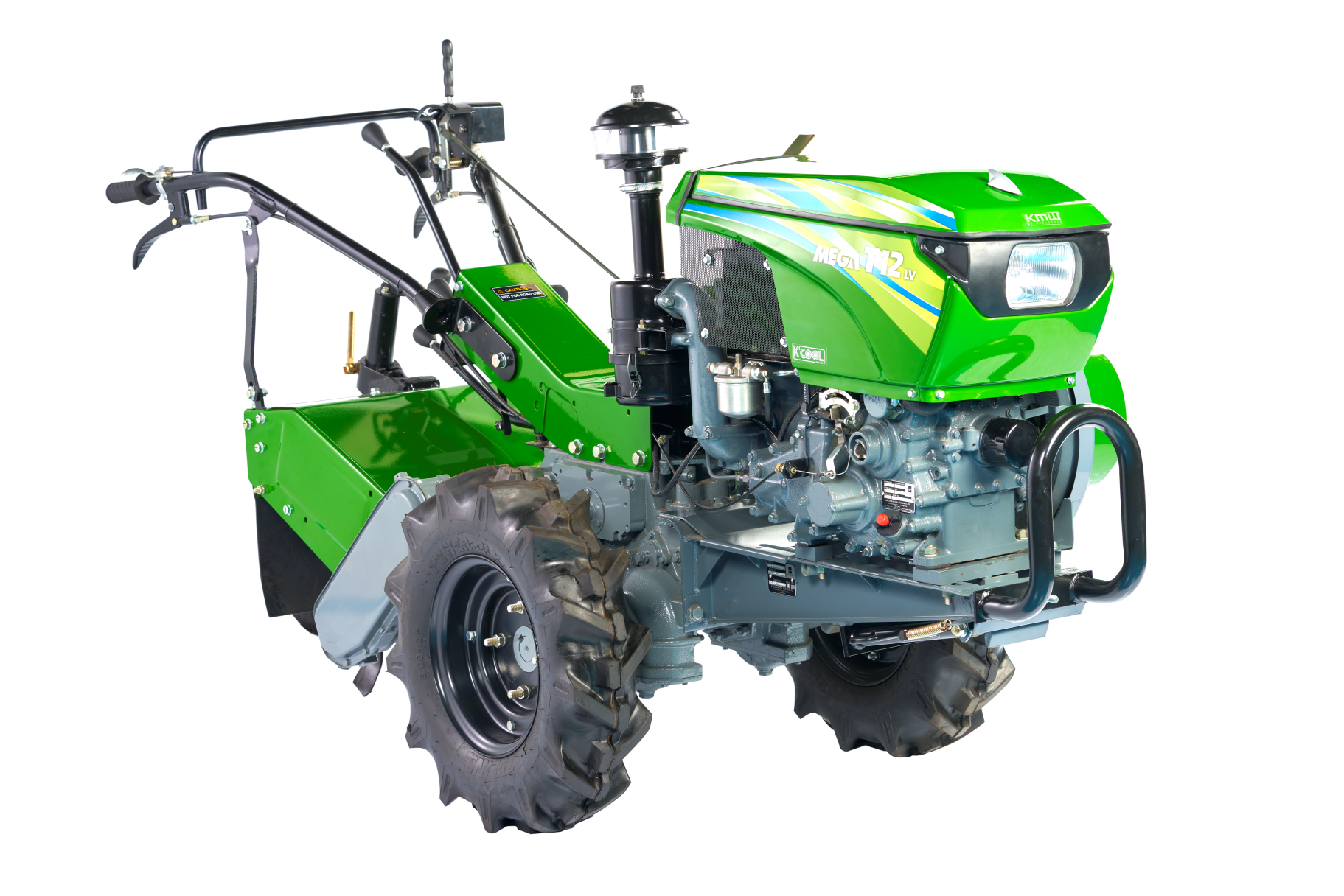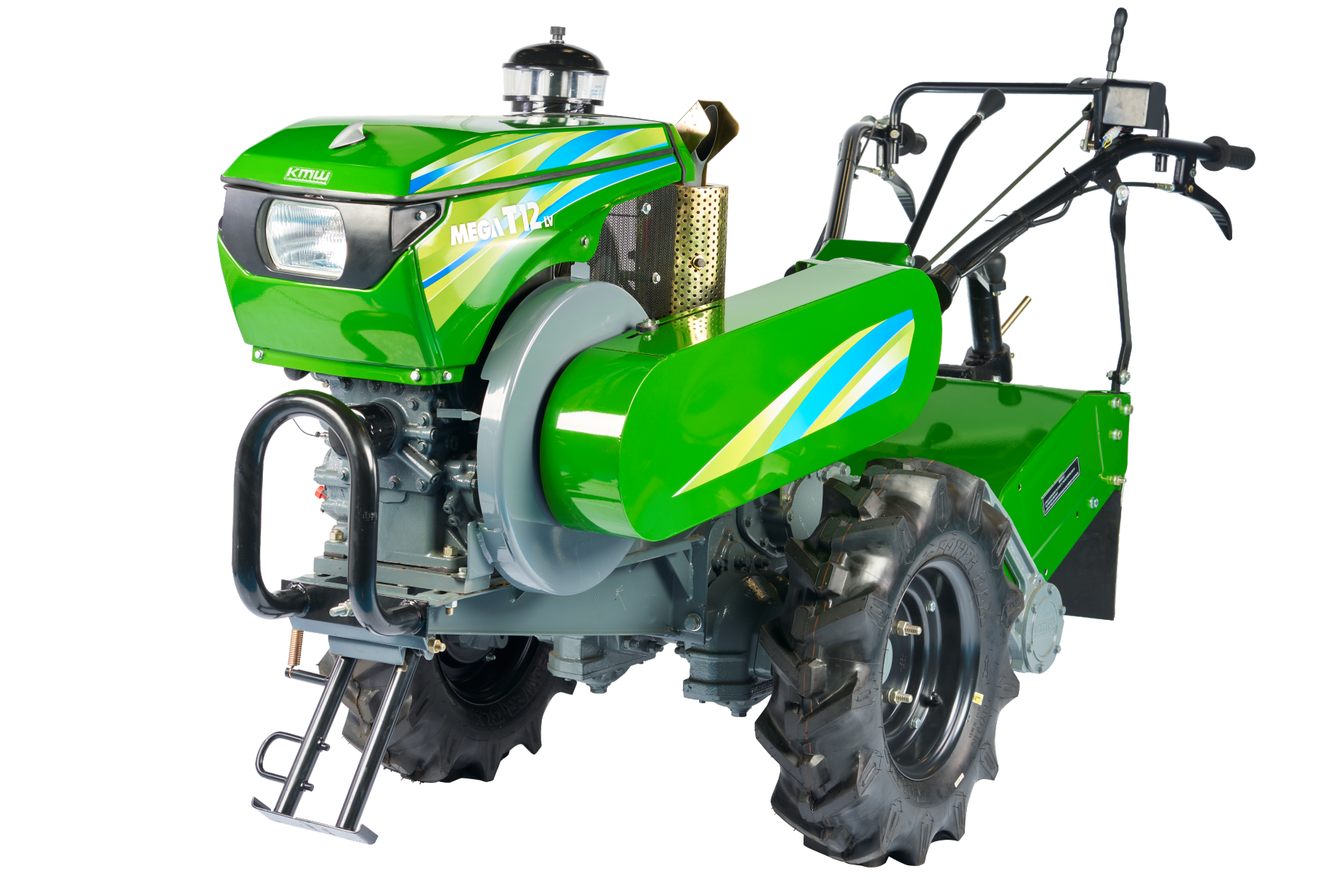 Koel-All Products Farm Mechanization MEGA T 12 LV Toggle Accordion
---
Mega T 12 LV - Powered by K Cool Nex Gen technology
This revolutionary farm machine packs in the power of K cool engine technology and versatility of a tiller and matches it up with the comfort and performance of a tractor. KMW Mega T 12 LV offers:
This 12 HP K Cool Engine is India's most advanced Engine available for Power Tillers.
The Various Features of this engines are:

K Cool Technology For forced cooling by internal water pump which ensures the engine can be run non stop for 24 hours.
Engine Oil Filter: Advanced Engine Oil Filter is provided so that the Engine Oil is always clean of dust/debris. This Improves the Performance and life of wear components.
Oil Cooling Jets: It has oil cooling Jets inside the Crankcase which keeps various components lubricated and cool.
Powerful Engine: A powerful 12 HP engine that can handle almost every kind of farm work with ease
Emission Compliance: The Engine complies to TREM III class.
Designed for both wet and dry land applications
Low Fuel Consumption Because of advanced engine the fuel consumption is very low

Multiplate Clutch to ensure longer life
Ergonomic Design: The design of this power tiller is Ergonomic with a well balanced system. This Ensures that the operator is able to handle the Machine with ease and less fatigue.
---
Engine

Make

Kirloskar Oil Engines Ltd.

Engine Model

T-700

Emission Compliance

TREM III

Type

Single Cylinder, Horizontal, Water Cooled, Diesel Engine

Power (HP/KW)

12/8.8

Rated RPM

2400

Displacement

635 cc

Bore X Stroke

96 mm X 96 mm

Max Torque (Nm)

40

Max Torque RPM

1400

Air Cleaner

Oil Bath Type

Fuel tank Capacity (L)

8

Engine Oil (L)

2 (15 W 40 CF4)
·
Transmission:

No. of Gears

6 Forward + 2 Reverse

Minimum Speed

1.48 kmph

Maximum Speed

16.33 kmph

Brakes

Parking Brakes

Gear Oil Capacity (L)

6 (80 W 90 Grade)

Chain Casing Oil Capacity

0.6 (80 W 90 Grade)

Brakes:

Hydraulic Operated Brakes

Optional

Metal Ring Type Brakes

Yes

Main Clutch:

Type

Dry, Multi Plate

Clutch Plate Dia.

160 mm
·
Rotary Tiller:

No. of Blades

20

Side Drive

Chain Drive

Rotor Speed Range

183 rpm and 304 rpm

Overall:

Length (with seat)

2500 mm

Width

950 mm

Height

1320 mm (with tail wheel)

Track Width

794 mm to 620 mm

Drive Wheels

6.00-12 (6 ply) – Traction Type

Side Power Take-off

1200 rpm @ Engine Rated RPM

Seat assembly

Optional
ComKirloskarCustomFormsWeb
KOEL - Similar Product MEGA T 15 DELUXE Slider