Koel-All Products Power GEN 40 KVA - 160 KVA Image Carousal
Diesel
40 KVA - 160 KVA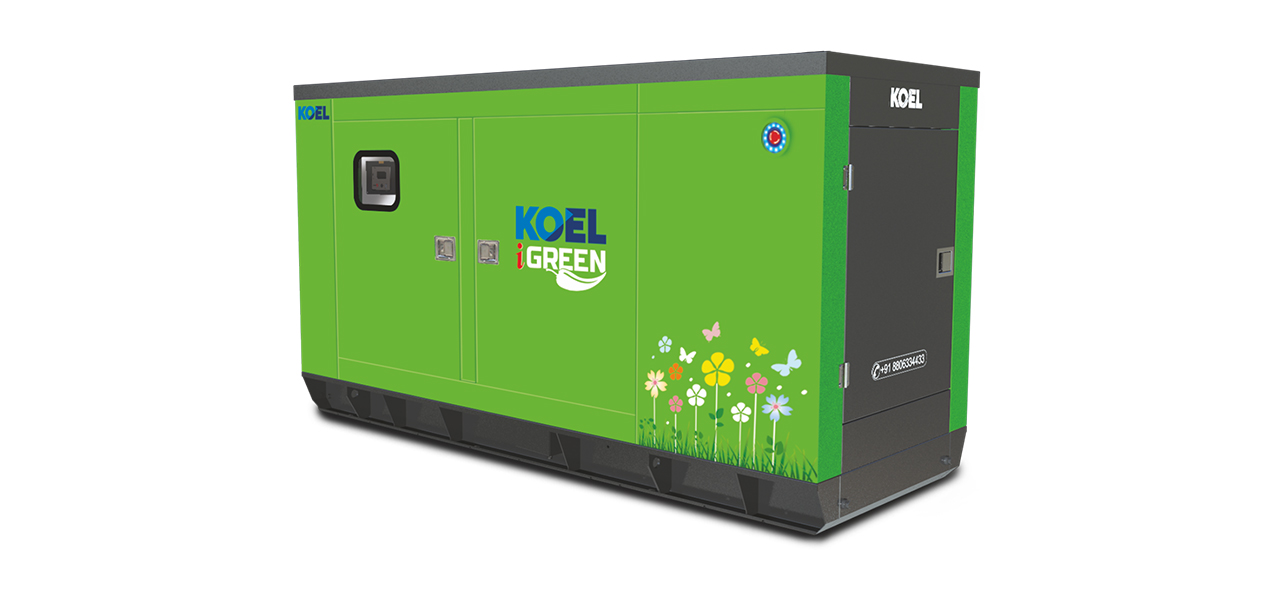 Koel-All Products Power Gen 40 KVA - 160 KVA Toggle Accordion
---
Description
India's #1 Genset brand
KOEL Green is the Genset brand of Kirloskar Oil Engines Ltd (KOEL), the flagship company of the century old Kirloskar Group. KOEL Green is India's largest selling and most trusted Genset brand for over a decade. Providing back-up power solutions from 15 to 5200 kVA for diverse market sectors, "KOEL Green" has over 1 million Gensets in service across the globe.
High reliability and durability of Gensets
Owing to extreme operating conditions in India, preference has been given to robust configurations that have been running successfully for several years. Also, KOEL is the only manufacturer which provides you with the benefits of choice in terms of Air cooled and Water Cooled gensets.
Best-in-class Fuel Efficiency
KOEL Green Gensets offer a unique combination of CPCB norm compliance and enhanced fuel efficiency. Across the range, KOEL Green Gensets offer substantial savings in fuel cost.
O2E Series (Optimal Operating Efficiency):
Genset ratings are selected based on the present load and future expansion. Fuel efficiency of most Gensets is optimized at the full rating of the Genset.
In practice, Gensets rarely get loaded to full capacity. Power demand variations across day & night, weekdays & weekends.
Summer & winter lead to an average 50-70% loading on the gensets.
Considering this practical situation, KOEL has extended fuel efficiency optimization from 100%, right up to 50% of rated load. Combination of best-in-class fuel efficiency & O2E provides a double advantage.
Genset Controls at your finger- tips
There is no comfort like being in command. KOEL Green Gensets put the command in your hands. Micro-processor based Genset controllers display a host of Genset parameters and put all controls at your fingertips.
Monitoring Features
Lube oil Pressure, Engine Temperature, RPM, lube oil Temperature*
Run Hours, No. of starts, Fuel Level, Auto / Manual Stop, BaMery charge condition, AC Phase Voltage, Current, kVA, kW, kWh, kVAr, Power Factor
Optional Features
Modbus communication*
* Features are available from 15 kVA onwards
Diagnostic Features
Battery charging failure, Over speed, Under speed, Over Current, Under Voltage, Over Voltage, Over kW, Phase Sequence monitoring, Phase missing, Common Alarm, Hooter output
Low lube oil Pressure, High Engine Temperature, Low/High battery voltage, Low Fuel Level alarm, Over Crank protection, Routine Maintenance indicator, Genset Test Facility, fail to start/stop
Peace-of-mind Ownership
KOEL Green Gensets have always been preferred for their robust design and reliability over long usage life.
KOEL Green range carries the confidence of well-established and proven engine platforms. For compliance to revised CPCB norms, KOEL has carefully selected those technologies which not only retain, but enhance Gensets durability and on-site serviceability.
Thus, KOEL Gensets offer you many years of trouble-free performance; backed by the assurance of prompt support. Peace-of-mind driven by product reliability and low cost of ownership.
7-Days assured Delivery
KOEL Chhota Chilli Gensets comes with a promise of assured delivery within 7 days of confirm order placement. Genset being a high value capital purchase may lead to needless block of capital and hence need not be purchased in advance. It is prudent to order the genset at the right time and plan the deliveries in line with your readiness to use. This will also avoid damages to genset due to lying unattended at site and engine re-validation cost.
Elementary Points to Ponder during selection of a Genset:
1. Prime rating and Stand-by rating ¹
'Prime power' is designed for unlimited hours, as compared to 'Emergency stand-by&' designed for 200 hours in a year. Prime rated Gensets also permit 10% temporary overloading. Users need to carefully select the Genset rating to meet their requirement. KOEL offers Prime power as a standard offer. *Contact KOEL for stand-by ratings.
2. Engine capacity does matter ²
Engine capacity (cc) plays a vital role in Genset performance. Higher engine capacity leads to a robust and stable Genset performance. Higher engine capacity also enables the Genset to respond quickly & positively to sudden load additions.
7 Easy steps for a happy Genset Ownership:
Insist on a load-study
Select the Genset rating as per the load-study and with sufficient margin for future load expansion
Apply site-selection guidelines carefully
Insist on installation in line with KG guidelines
Ensure adequate size and proper connection of cables
Understand the Genset operation & maintenance procedures during commissioning
Follow routine maintenance protocols through authorized KG service dealers
---
Prime Rating at rated rpm (as per ISO 8528)1
kVA
40
45
62.5
82.5
100
125
160
kW
32
36
50
66
80
100
128
Genset Model
KG1- 40WSE
KG1 - 45WSE
KG1- 62.5WSE
KG1- 82.5WS
KG1-100WS
KG1-125WS
KG1-160WS
Frequency
Hz
50
50
50
50
50
50
50
Power factor
lagging
0.8
0.8
0.8
0.8
0.8
0.8
0.8
Voltage
V
415 3Ø
Governing class (As per ISO 8528 Part-V)
G2
G2
G2
G2
G3
G3
G3
Noise level
dBA
<75
<75
<75
<75
<75
<75
<75
Fuel Consumption #
At 100% Load
Ltrs/Hr
9.2
10.3
14.1
18.8
21.9
27.4
36.6
At 75% Load
7.4
8.7
11.3
13.8
16.9
20.2
27.7
At 50% Load
5.5
5.9
7.5
9.9
12.2
15.3
19.1
Fuel tank capacity
Ltrs
100
100
150
150
230
230
300
Weight of genset with canopy (approx..)
Dry
Kg
1180
1180
1470
1710
2040
2090
2730
Wet
Kg
1215
1215
1600
1840
2240
2290
3110
Overall dimensions of genset^
Length
mm
2750
2750
2900
3200
3200
3200
4000
Width
mm
1050
1050
1100
1100
1300
1300
1500
Height
mm
1493
1493
1581
1595
1795
1795
1915
Electrical Battery starting voltage
Volts-DC
12
12
12
12
12
12
12
ENGINE
Engine Model
3R1040TA G1
3R1040TA G1
4R810TA G1
4R1040TA G1
4K1080TA G2
4K1080TA G2
6K1080TA G2
Rated output (Prime Continuous rating as per ISO 8528-1)
kW
41.2
41.2
61
74.8
114.7
114.7
147
HP
56
56
83
102
156
156
200
No. of cylinder
Number
3
3
4
4
4
4
6
Cubic capacity2
Ltrs
3.12
3.12
3.24
4.16
4.32
4.32
6.48
Bore x Stroke
mm
105x120
105 x 120
96x112
105 x 120
105x125
105x125
105x125
Rated Speed
RPM
1500
1500
1500
1500
1500
1500
1500
Aspiration
NA/TC/TA
TA
TA
TA
TA
TA
TA
TA
Lube Oil change period
hrs.
500
500
500
500
500
500
500
Lube oil Sump Capacity
Ltrs
8
8
10
10
14
14
18
Coolant Capacity
Ltrs
11.5
11.5
17.5
24
21
21
28
ALTERNATOR
Insulation Class
Class H
Class H
Class H
Class H
Class H
Class H
Class H
Alternator Efficiency (at 100% load) 0.8 pf**
%
88.4
88.2
91
89.9
92
92.4
92.8
Max Voltage Dip at Full Load 0.8 pf Lag
sec
< 16 %
< 16 %
< 20 %
< 20 %
< 20 %
< 20 %
< 20 %
Max Time to build up rated voltage at Rated RPM
< 5 sec provided engine reach the rated speed
Voltage recovery time 6 sec
< 1 sec provided engine reach the rated speed
---
­Koel iGreen Offerings
AMF as standard
KOEL remote Monitoring
Silencer inside canopy
Aesthetically enhanced genset
QR Code enabled genset
Multi-colour Status indicator
Features
Low OPEX: Best in class fuel efficiency with O2E technology
Robust and Reliable Product: Lowest maintenance and trouble free product with Kirloskar Engines
Option of Air Cooled and Water Cooled Engines
Compliance: Latest Government Emission Norms CPCB II
Start Type: Controller Based Easy Push Start Type
Customer Service: Quick and affordable door step service coverage (420+ service touch points and 6000+ KOEL trained service professionals on field)
Warranty: 2 years warranty & labour free onsite service under warranty period
ComKirloskarCustomFormsWeb
KOEL - Similar Product 40 KVA - 160 KVA Slider